There's something about daffodils in Spring that catches your attention. They are such a bright splash of yellow appearing after a fairly monochrome winter. Likewise, the Golden Roads project has caught some media attention over the years. That's helped us inspire similar projects elsewhere, brightening up roadsides and other public places.
National Recognition
Our Golden Roads Daffodils initiative and small-town community has been discovered, with recent feature articles in three national gardening magazines and an Associated Press article published in newspapers coast to coast.
The Daffodil Journal, December 2020, a publication of the American Daffodil Society. The article written by the Lewisboro Garden Club's own Maureen Koehl titled "Lewisboro's Golden Roads."
Country Gardens Magazine, 2020 early spring edition titled "Destination Color – A New York Community Plants Bulbs Along Roadsides to Create an Avenue for Passersby to Enjoy Eye-Popping Spring Blooms."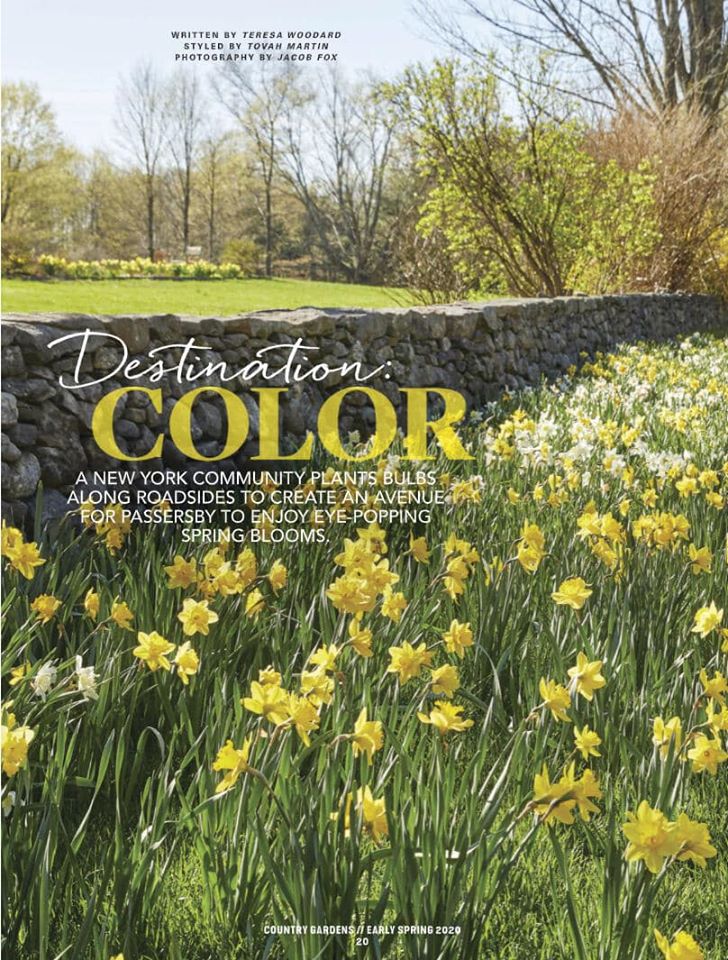 Horticulture Magazine, featured on the cover of the September/October 2019 issue titled "Golden Roads – A Community Comes Together Each Fall to Ensure a Gorgeous Sight for All Come Spring". A condensed version of the article can be viewed here https://www.hortmag.com/headline/roadside-daffodil-planting-project
Associated Press article, October 3, 2017, titled "Daffodil Drifts Can be 'Golden Roads' for Drive-By Viewing". Published coast to coast in hundreds of newspapers in the US and Canada. Link here https://apnews.com/article/eb6bbc323b5d48229036ec62ee78c432
Better Homes and Gardens, February 07, 2020 "This New York Town Becomes a Must-See Daffodil Destination Every Spring – Each year, thousands of daffodils bloom in front of homes and along roads this small community that is big on cheerful spring color." Link here https://www.bhg.com/news/lewisboro-daffodil-roads/
Golden Roads Daffodils – A Few of Many Online Articles
House Beautiful, February 10, 2020, titled "This Small Town Has Planted Nearly 100,000 Daffodils Over the Past 14 Years". Link: https://www.housebeautiful.com/lifestyle/a30856478/small-new-york-town-lewisboro-daffodils/
DIY Network online article titled "How to Plan a Roadside Daffodil Planting Project – Learn how to beautify your neighborhood or community with sweeps of beautiful daffodils" link here https://www.diynetwork.com/how-to/outdoors/gardening/how-to-plan-a-roadside-daffodil-planting-project